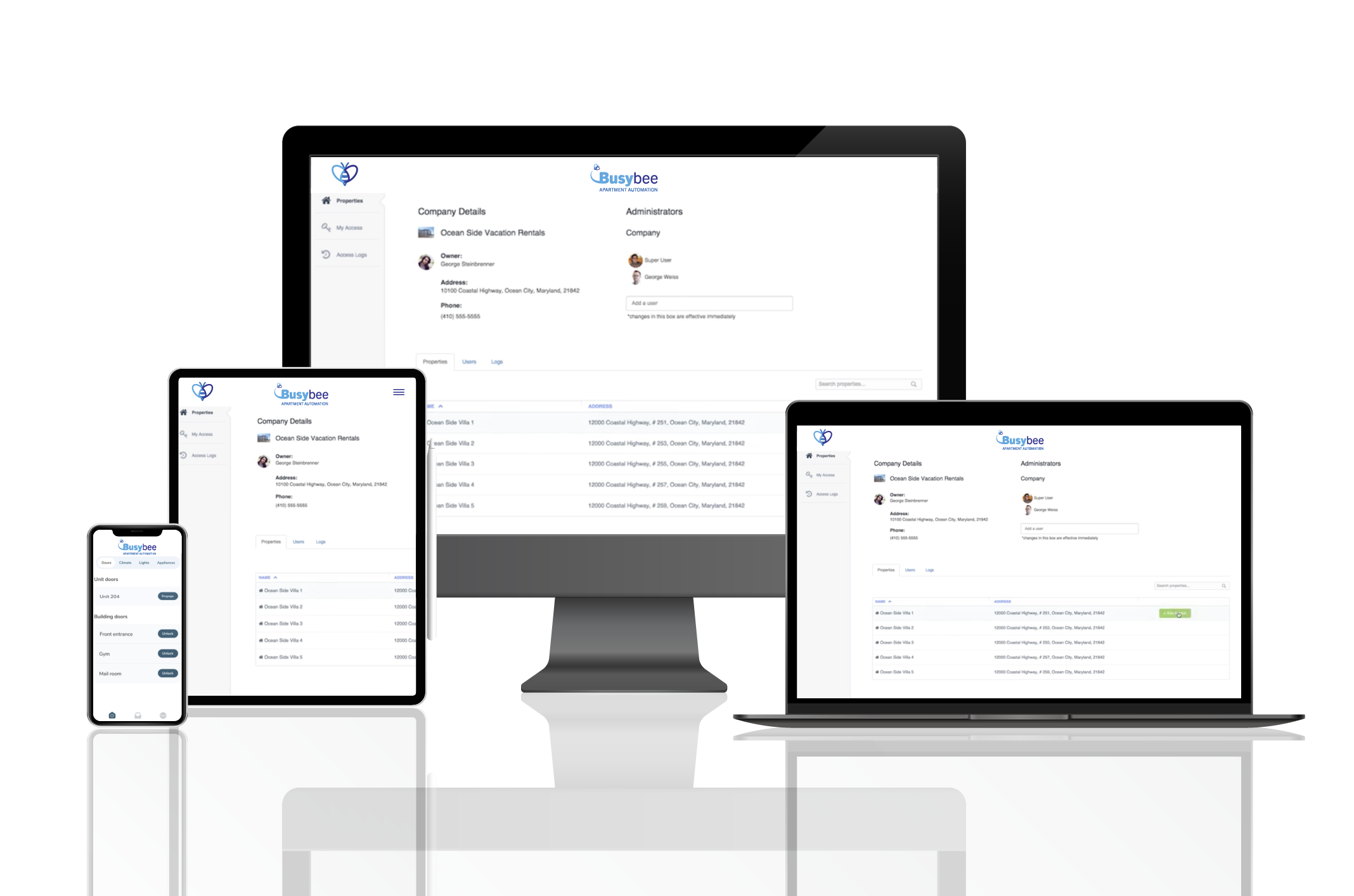 Never wait for a tenant to report a maintenance problem. Receive live updates in real time!
Never wait for a resident to report a maintenance problem.
Receive live updates instantly!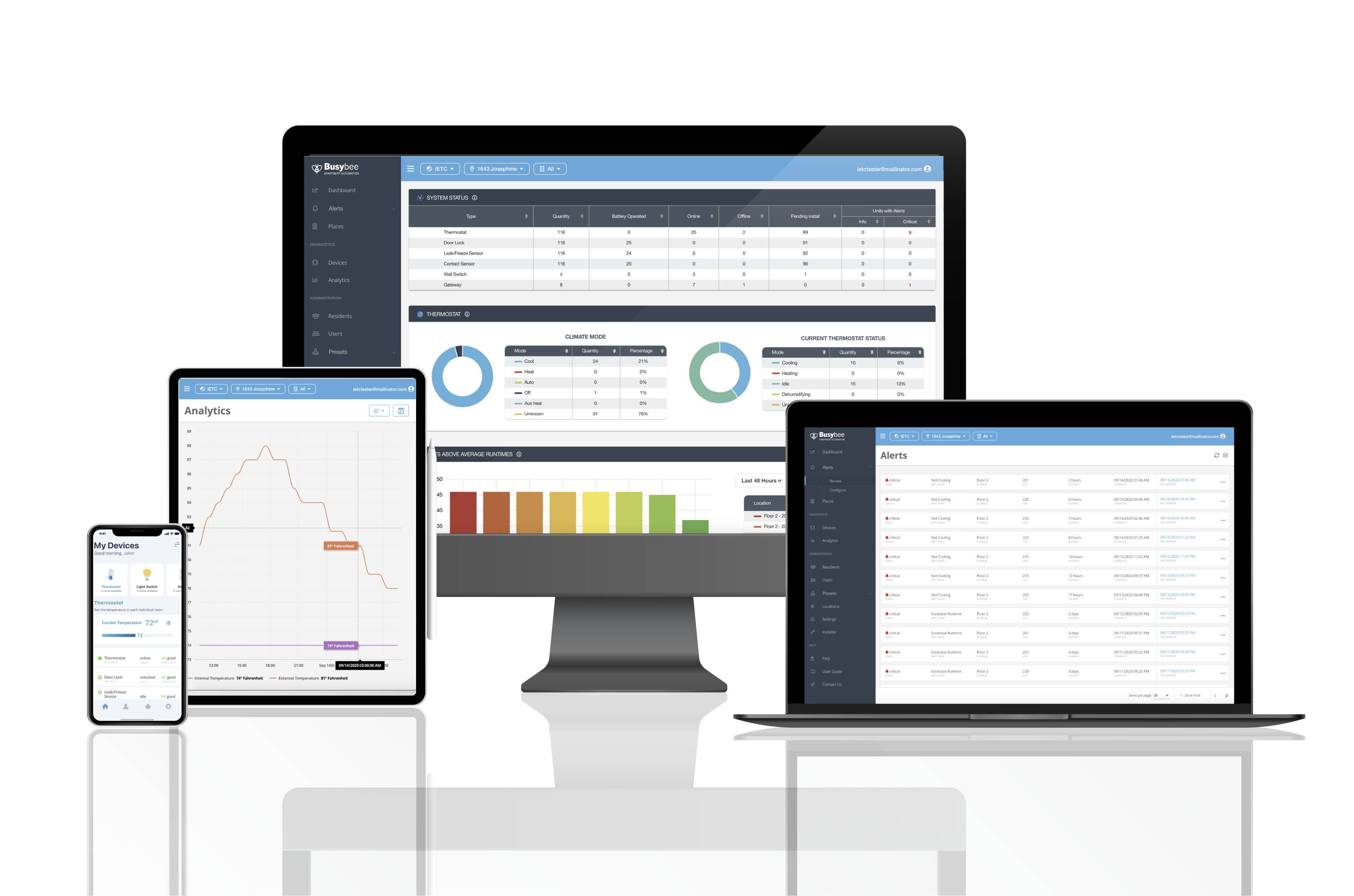 How "The Hive" offers Centralized Management
Select your view by property group or individual properties, then drill down to view individual floors, apartments or connected devices.
Set Energy Saving Schedules
Base the schedule on apartment occupancy status to automatically update all apartments within the group. Multiple schedules can be created to keep temperature efficient at any time of the day.
Disable Thermostat Control & Set Thresholds
Have control when a contractor is working in vacant units by disabling local thermostat control. Restrict residents from setting thermostats too high or too low by setting maximum and minimum thresholds.
Remotely Access Properties
Be able to activate or delete authority credentials quickly by property level, by building or by individual apartment.
Assign proper control credentials (Maintenance Supervisor, Super Administrator,Temporary User) based on access and notification needs.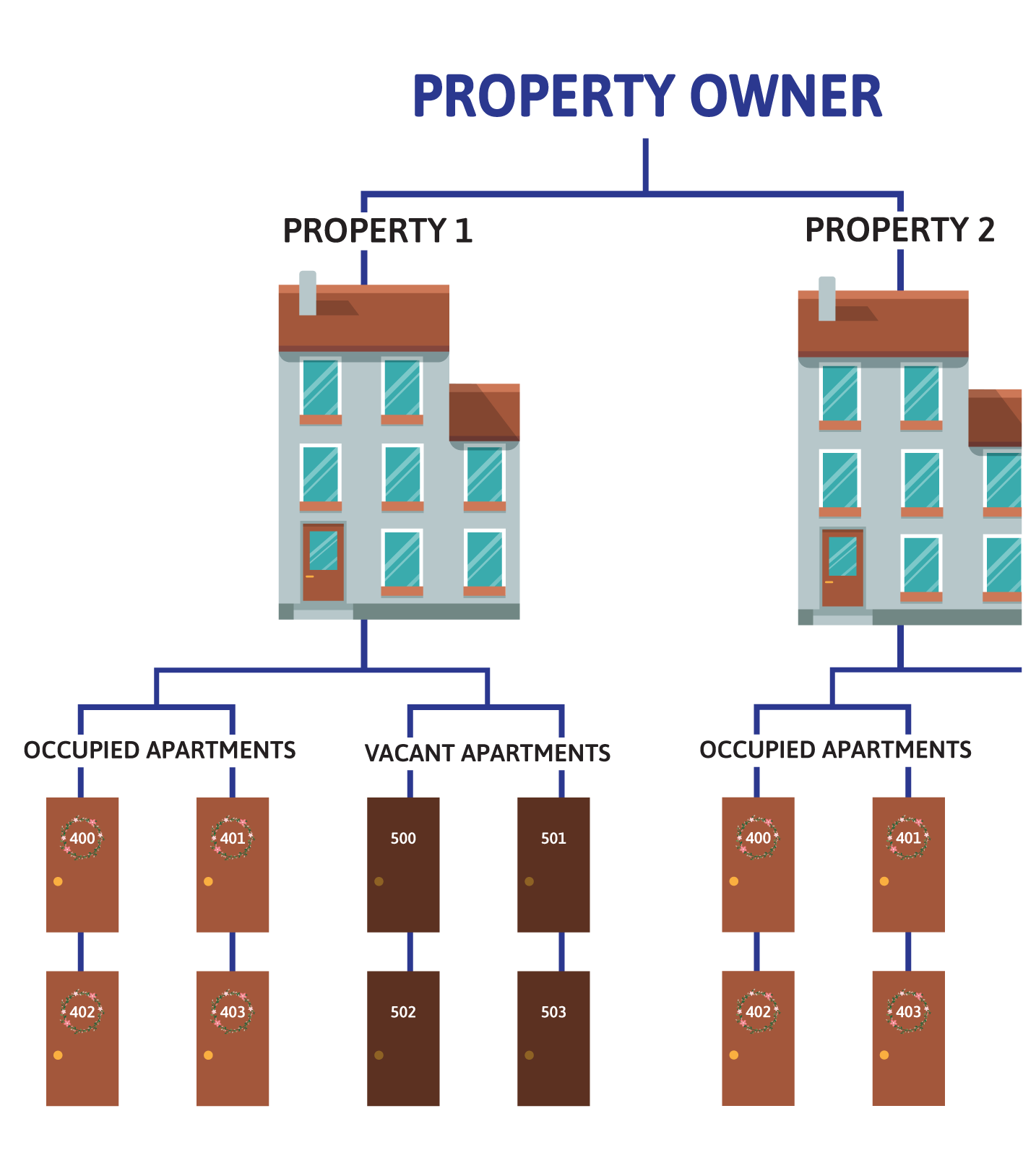 With the ability to monitor your property's equipment through instant notifications and alerts, Busybee provides you with the ability to make better predictions on your maintenance expenses by protecting you from unexpected events, enhancing your budget planning and improving your NOI.
Don't let water damage or black mold sneak up on you. Busybee's real-time alerts allow your community managers to deal with maintenance emergencies before the damage spreads or worsens. Be in the know sooner with Busybee.
Real-time alerts allow management to dispatch maintenance teams immediately and remotely perform routine equipment checkups, eliminating the need for staff to inspect units 1 by 1. Prevent after-hours emergency calls by rapidly diagnosing issues prior to entering the apartment, keeping service calls within normal business hours.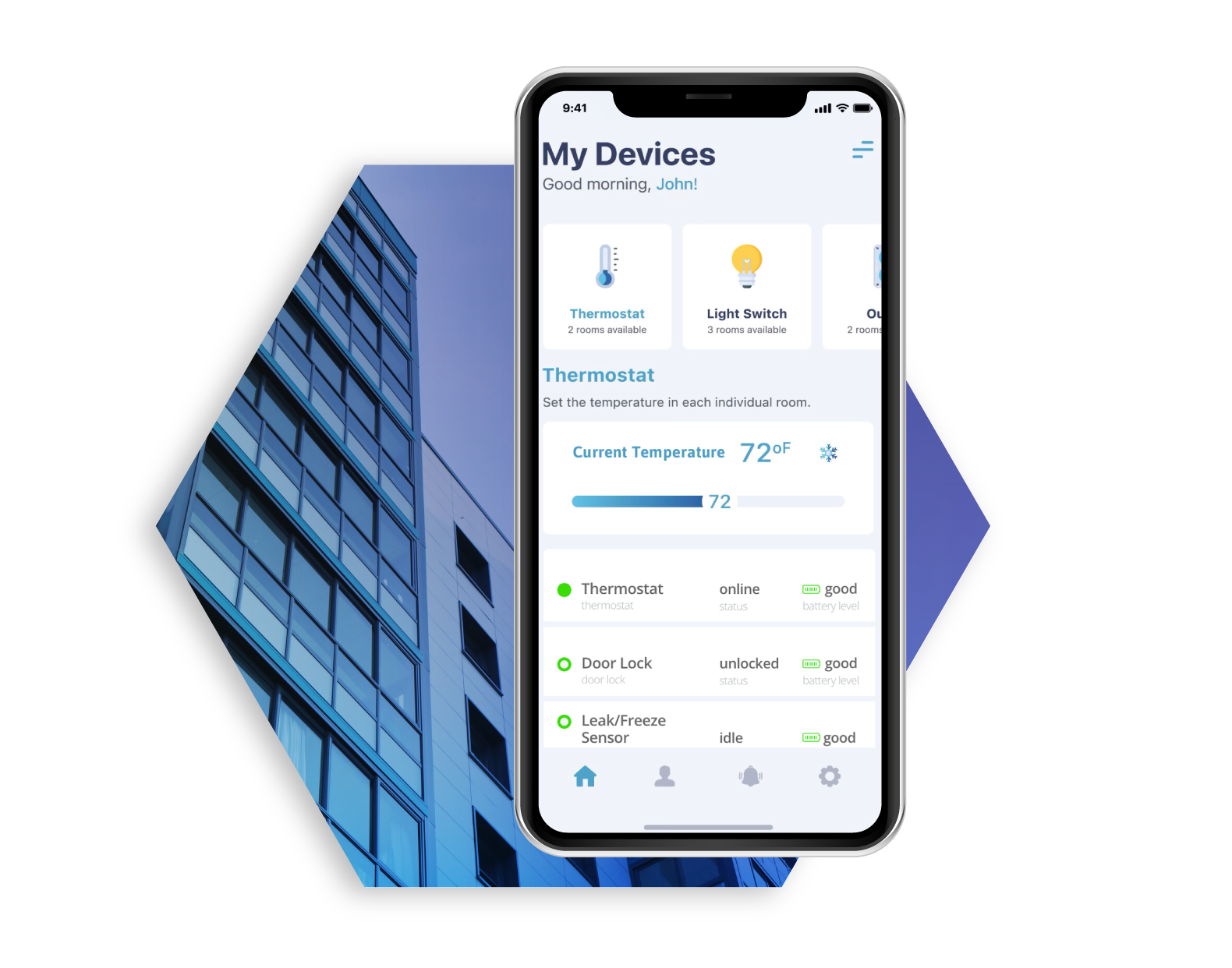 Current & Historical Analytics
Create a more efficient property with the ability to analyze past and current trends concerning your property's NOI, usage, and savings costs. Get more honey without the hassle.

Empower Property & Facilities Management teams with the ability to rapidly diagnose maintenance issues prior to entering a unit.

Vacant Apartment Home Management
Be able to monitor your property's vacant units by controlling the temperature and lighting, and be in the know if a maintenance issue occurs while it's unoccupied.

Assign Authority Credentials
Designate user access based on Super Administrator, Maintenance Supervisor, or Temporary User. Assign access to specific buildings or individual apartments for a certain timeframe.
Of Interviewed Millennials Believe Technology Makes Their Lives Easier
Of water can leak out of a 1/8 inch hole in a pipe in just one day
Of renters are interested in having a smart thermostat in their apartment
How The Hive Communicates
When a Busybee automated device senses a change in the environment, it transmits a signal. That signal is carried by Z-WAVEPlus technology to our Hive management controller, which acts as the hub for each apartment home. The Hive Management controller then passes the signal to your secure personalized cloud which stores all your property's data and analytics. Once in the cloud, the signal makes it to its destination-Immediately notifying your phone, laptop or tablet All within seconds!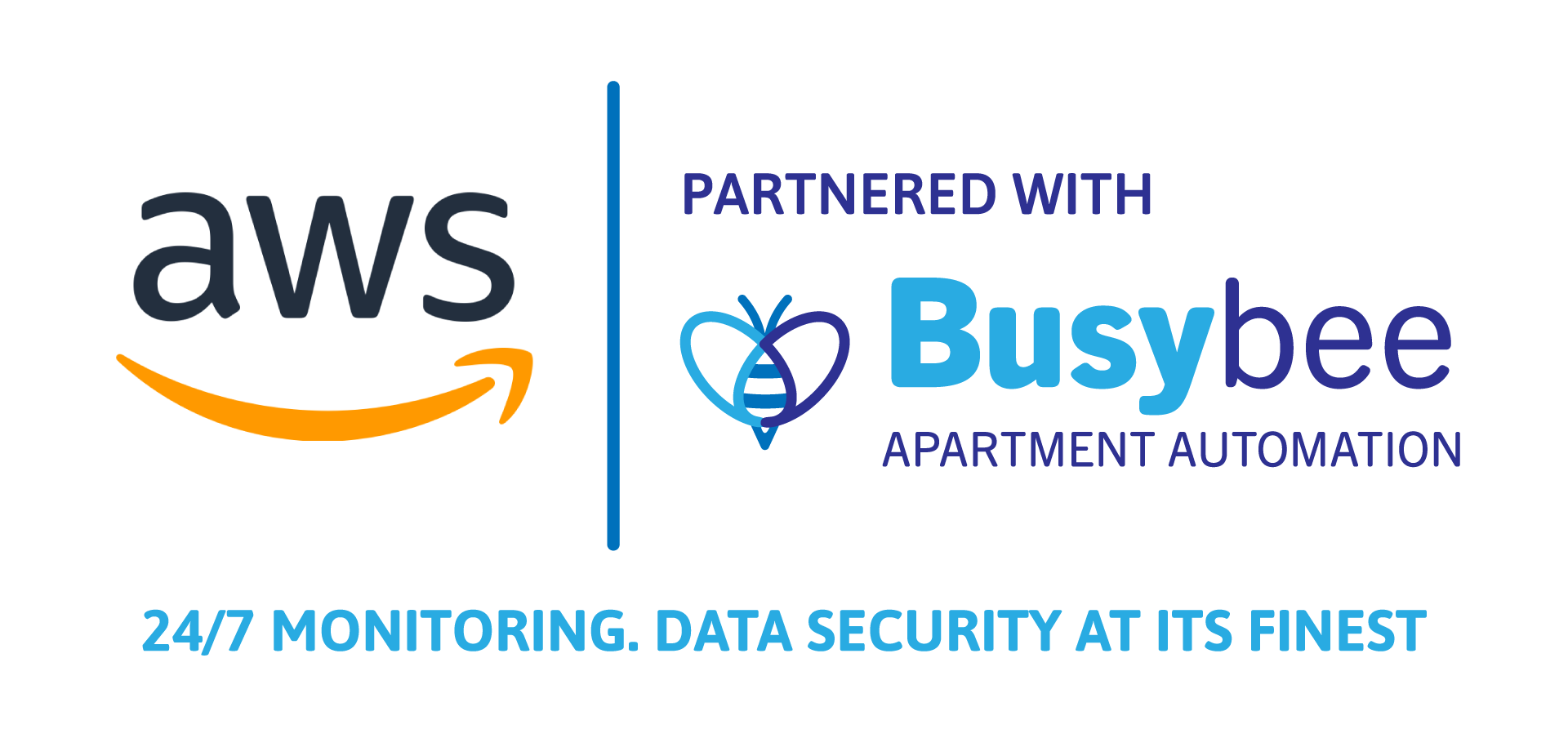 Busybee Automation's workers have been working with the apartment industry for over 20 years. We are the team you can trust to take care of both residents and your needs. Join the Hive where we're busy so you don't have to be.